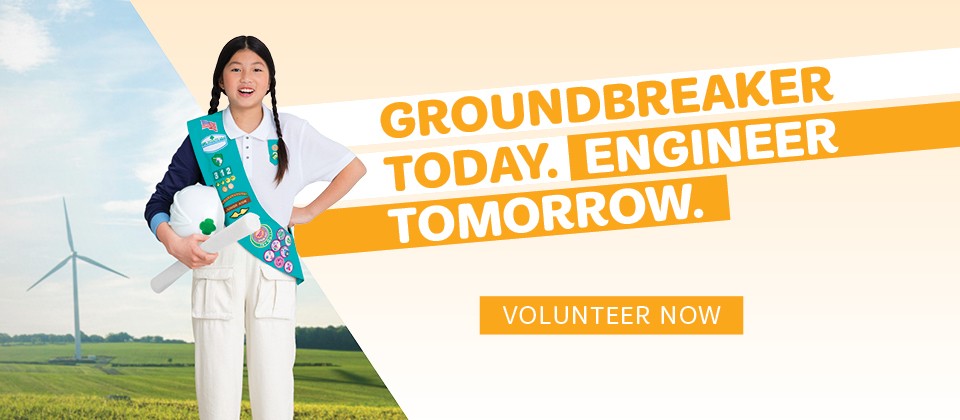 Our council is in the process of transitioning to a new membership registration and volunteer support platform, which will go live during the week of August 21st.
This will be where members register, troop leaders re-register members and where the Volunteer Tool Kit (VTK) will link everything together as the location for building your troop program year. 
In preparation for the roll-out of this new system,  membership registration is closed Saturday, August 5th and will re-open on Wednesday, August 23rd. This does not impact registration for events, which may be completed at any time. 
_________________________________________________________
Help her unleash her inner leader. Check out ways to volunteer.
Prepare her for a lifetime of leadership, and be the mentor she needs.
As a volunteer, you'll introduce girls to new experiences that show them they're capable of more than they ever imagined. They'll each find their inner G.I.R.L. (Go-getter, Innovator, Risk-Taker, Leader)™ after all!
You'll be their cheerleader, guide, and mentor, helping them develop essential life skills and confidence that will last a lifetime. Imagine the excitement, the impact, the memories made—those are the moments you'll share at Girl Scouts.
Embark on an extraordinary journey of leadership!
Calling all Troop Leaders
Help make Girl Scouts available to all girls!
Do you have openings in your troop? If you decide to open your current troop to three or more new girls this upcoming Girl Scout year, you will receive the On-Time GSMISTS tote bag FREE as a gift from us. Just take the I Want to Help GSMISTS Grow survey by August 18th in order to be eligible. No late forms will be accepted.

Need to know more? Check out different ways to volunteer, see what girls do at Girl Scouts, or find out how to sign up the girl in your life.