Our Council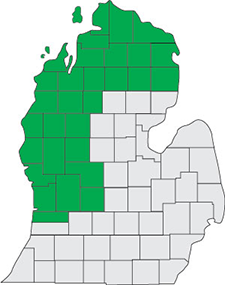 Girl Scouts of Michigan Shore to Shore is the high-capacity council formed from the realignment process initiated by GSUSA in 2004.

 Jurisdiction Map including designated staff support
On August 1, 2008, Girl Scouts of Michigan Shore to Shore was officially created from the merging together of Crooked Tree (based in Traverse City), Michigan Pine & Dunes (based in Muskegon), Michigan Trails (based in Grand Rapids) and a portion of Mitten Bay (with an office in Gaylord). 
With the combined membership and resources of these legacy councils, Girl Scouting in northern and western Michigan is stronger than ever!
  Service Center and Retail Shop Hours
Monday-Thursday: 8:30 am - 5:30 pm
Friday: 8:30 am - 12:30 pm

  Service Center and Retail Shop Locations
Grand Rapids Service Center
3275 Walker Ave NW, Grand Rapids, MI 49544
Telephone: 616.784.3341
Fax: 616.784.8187

Muskegon Service Center
1201 E. River Road, Muskegon, MI 49445
Telephone: 231.744.4774
Fax: 616.784.8187

Traverse City Service Center
1820 Oak Hollow Drive, Traverse City, MI 49686
Telephone: 231.947.7354
Fax: 616.784.8187

  Call toll-free at 844 - GSMISTS