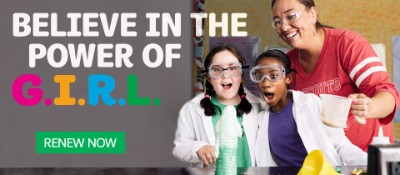 Renew your troop for another year of fun! Girl Scout troops who renew their 2018/2019 Membership before May 25th earn amazing prizes and extra funds for girl experiences! Troops who register by May 25 receive FREE admission to Anna B's Camporee and the EXCLUSIVE 2018 Spring Renewal Patch.
Continue >

CHECK OUT THE 2018 SUMMER CAMP GUIDE
New this year! Our council created the 2018 Summer Camp Guide. This guide is the go-to resource for Girl Scouts looking to explore the outdoors at Girl Scout Camp. The guide includes information on GSMISTS programming, like Camp Invention, as well as opportunities with our sister council, Girl Scouts Heart of Michgian.
Continue >