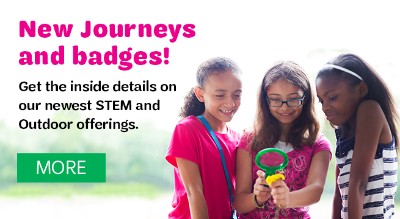 This year, we added new Journeys and badges in science, technology, engineering, and math (STEM); the outdoors; and life skills! 
Combined with existing programs, these new Journeys and badges help girls empower themselves to unleash their inner strengths and accomplish amazing things.
Continue >

SUMMER WITH THE SHORE 
New this year! Our council created Summer with the Shore. This guide is the go-to resource for Girl Scouts looking to explore this summer! The guide includes information on GSMISTS programming, like Camp Invention, as well as opportunities with our sister council, Girl Scouts Heart of Michgian.
Continue >