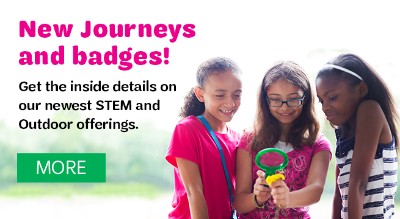 This year, we added new Journeys and badges in science, technology, engineering, and math (STEM); the outdoors; and life skills! 
Combined with existing programs, these new Journeys and badges help girls empower themselves to unleash their inner strengths and accomplish amazing things.
Continue >

Girl Scouts from across West Michigan created artwork and gathered at the Gerald R. Ford Presidential Museum for the 9/11 Community Day of Rememberance and Scout Salute.
Six Girl Scouts won the 9/11 Day of Rememberance Poster Contest, creating posters and artwork representing the heroism, patriotism, and sacrifice of all those lost during 9/11. Click here to see the artwork
Continue >