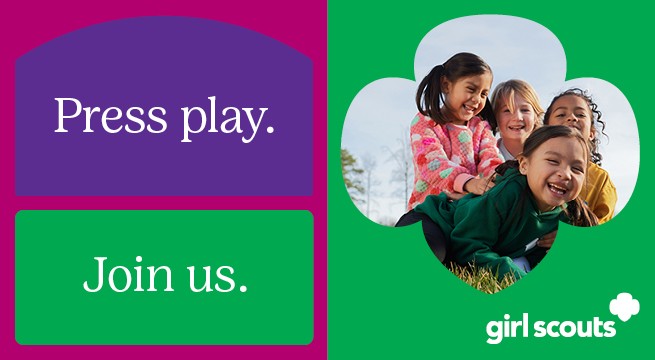 Already a member? Log in to renew.
Join Girl Scouts
When you unleash your inner G.I.R.L., you can accomplish anything!
At Girl Scouts, the next opportunity to stand up, speak up, and take the lead is never far away. With us, you'll discover the G.I.R.L. (Go-getter, Innovator, Risk-Taker, Leader)™ in you, and watch her shine, again and again.
Will you find a sustainable solution to a problem in your community? Will you explore the great outdoors? Build a robot? Learn to code? Conduct an experiment?
With us, the possibilities are truly endless. Discover all you can be and everything you can accomplish when you have the right tools and a safe space to shine—and work together to change the world. 
So what are you waiting for?
 

Already a member? Log in to renew.
Need to know more so you can decide what's right for you? Check out all the different ways to take the lead at Girl Scouts. Or, see all the exciting possibilities Girl Scouts offers for girls of all ages and choose your adventure.
________________________________________________________
2017 On-Time Registration    
All girls and adults registered for the 2018 Membership Year by September 30, 2017 will receive an email with ordering instructions by October 4, 2017. The cost is $8.00 for the tote, $10 for a Youth Medium - Adult XL t-shirt, and $12.00 for an Adult 2XL-4XL t-shirt. All items must be ordered by October 20, 2017. Delivery/pick-up will be available in Mid-November. For questions, please contact us at (844) 476-4787.